Print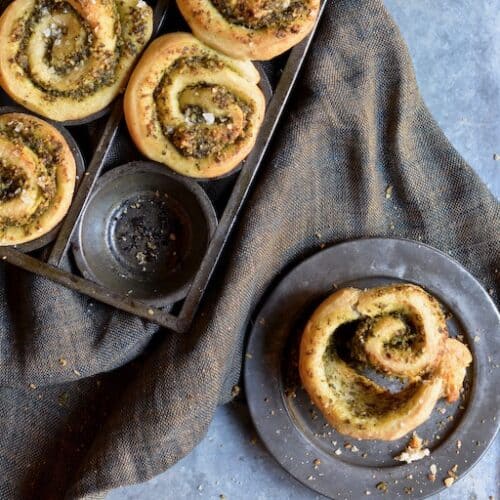 ---
Description
One of my favorite recipes to bring to a potluck gathering is this crusty French loaf with a swirl of fresh pesto. To maintain an even shape, use a French bread mold, available in the kitchen store, yet a free-form loaf will look just as fine. A variation that is also sure to please make a loaf of pesto swirl bread.
---
Scale
Ingredients
2 teaspoons (or 1 package) of active dry yeast
1 ½ cup warm water
1 teaspoon sugar
4 tablespoons melted unsalted butter (or 1/8 cup olive oil)
5 cups all-purpose white flour
2 teaspoons salt
1 cup Basil Pesto
---
Instructions
Soften the yeast and the warm water in a large bowl, along with the sugar (which aids the yeast by giving it something to eat), and allow it to sit for 10 minutes. With a wooden spoon, stir in the (cooled) melted butter or oil, then the flour and salt. (It may be done in a mixer with a dough hook.) Turn out onto a floured counter and knead until smooth and elastic, about 8 minutes.
Transfer to a lightly oiled bowl and cover with a moistened tea towel. Allow the dough to rise in a warm place until double or about one hour. Punch dough down, and allow it to rest for 10 minutes. Divide in half and roll out each half to a rectangular shape about 12" long by 8" wide. Spread evenly with ½ cup pesto.
Starting at the long end, roll up the dough like a jellyroll, and place seam side down (with ends pinched under) on a lightly oiled French bread loaf pan or a baking sheet. Lightly oil 12-cup muffin tins with olive oil. Roll out the dough as indicated above. Using a sharp knife cut the loaves into 1-inch thick rounds. Place each round in the lightly oiled muffin tin. Cover each muffin with a damp kitchen towel. Let stand in a warm place until the rolls look puffy, about 30 minutes. Bake at 400* until golden brown, about 20 minutes. Cover loosely with a damp tea towel once more and allow to rise again for 45 minutes to 1 hour.
Preheat the oven to 400*. Bake for about 30 minutes, or until bread is golden brown on top and a hollow sound when tapped. Remove from pan and cool on racks before slicing.
---