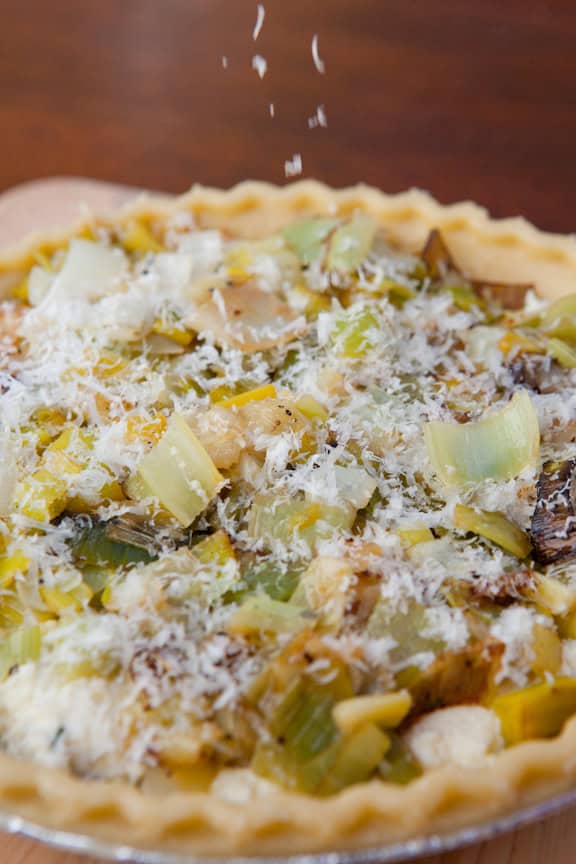 Savory Onion Tart  | Serves 8
I'll be the first to admit that I often get my best ideas when wandering in a kitchen store. So it's hard to say if it was the recipe or the fluted removable tart pan, which first inspired me to try baking a tart. But this is the time of year that I fall in love all over again with sweet and savory onion tart. Slow cooking brings out every drop of sweetness in onions, which is balanced by the marsala wine or a splash of good vinegar. Serve this as a side dish or light dinner with a salad.
Pie Crust |
1 cup unbleached white flour
½ cup whole-wheat flour
½ teaspoon salt
½ cup (8 tablespoons) unsalted butter, cut into 1-inch cubes
½ cup plain yogurt or sour cream
In a food processor fitted with a steel cutting blade, blend the all-purpose and the whole-wheat flour, and salt. With the food processor running, add one piece of butter at a time to the flour until it resembles coarse cornmeal with a few pea-sized pieces. Turn off the machine and add the yogurt. Pulse just until the dough comes together into a ball. Roll out the dough on a lightly floured work surface into a 12-inch round about 1/8 inch thick. Transfer to a lightly buttered 9-inch pie tart pan.
The Filling |
2 large yellow onions
2 tablespoons olive oil
2 tablespoons unsalted butter
1/2-teaspoon sea salt
1/4 teaspoon freshly ground pepper
1/4 cup balsamic vinegar
1 large egg
2 cups ricotta cheese
1 tablespoon finely chopped fresh rosemary
1/2 cup shredded sharp cheddar cheese
1/4 cup finely grated Parmigiano-Reggiano cheese
Trim the paper skin and roots from the onions, slice in half and cut thin half moon slices.
In a large skillet, melt the oil and butter over medium heat. Add the onions and cook to soften, slowly about 25 minutes. Stir in the salt, and pepper; reduce the heat to low and sauté, stirring frequently, until the onions are brown and translucent, about 30 minutes. Stir in the vinegar, and gently cook for another 2 minutes to reduce liquid. They will have a sticky texture. Remove from the heat and set aside.
Preheat to 375°F.
In a medium bowl, beat together the egg with the ricotta and rosemary. Sprinkle the base of the pie shell with cheddar cheese, then pour in the ricotta, spreading the mixture evenly in the pastry shell. Distribute the caramelized onions on top and dust the top with the Parmesan cheese. Bake until golden brown, about 35 minutes. Let stand for 10 minutes before cutting. Serve warm.