Refreshingly tart and slightly sweet, my recipe for rhubarb pie has a crumb topping and is comprised of three parts: dough, filling and topping.
Start with the dough, since it needs to chill, and make it an hour before you plan to bake it. This recipe makes just one crust for the bottom layer, so double it if you prefer a top layer along with the crumbly topping.
The first time I made this recipe, I left the dough edges ragged and folded them over the topping for a more rustica looking pie. This kept the filling moist and lovely to serve. I must admit that I am not much of a pie eater, but this simple recipe converted me, and I've had pie for breakfast twice this week!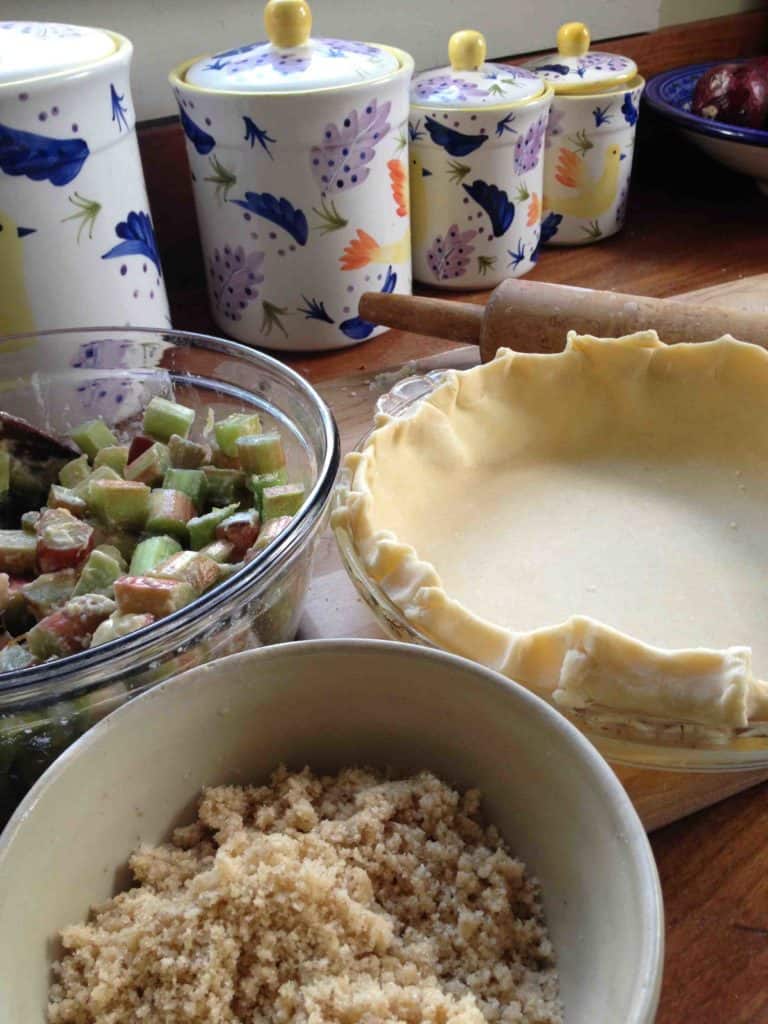 Step One: Pie crust
1 1/4 cup flour
1/2 tsp. salt
1/2 tsp. sugar
1 stick butter
3 tablespoons ice water (chill 1/2 cup water with three ice cubes and let it sit 5 minutes)
Mix the flour, salt and sugar in a food processor. Cut the butter into
chunks and add to the flour, pulse until mixed well. Slowly add ice water
until the dough begins to ball up. Form it into a disc, press to flatten slightly and wrap in
waxed paper. Refrigerate for an hour or so. When ready to roll, let it sit on slightly flour surface for about 5 minutes, then roll out to desired thickness, and several inches larger than the pie dish. Transfer to the pie dish, trim and crimp edges.
Step Two: Topping
1/2 cup flour
1/3 cup sugar
1 tsp. cinnamon
1/2 cup softened butter
Before you clean out the food processor, blend all these to combine. Or stir together with a fork. Will be a crumbly consistency. Transfer to a small bowl and set aside.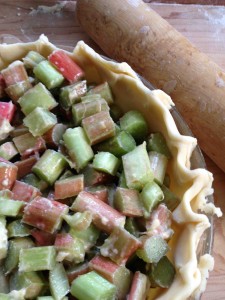 Step Three: Filling
8 stalks Rhubarb
¼ cup flour
¼ cup maple syrup
¼ cup sugar
1 Tablespoon grated fresh ginger ( or 1 tsp dried)
1 lemon, zest and juice
1/2 cup dried cranberries (optional)
¼ cup Dark rum
Harvest the rhubarb, remove the leaves and cut into 1 inch chunks. Will yield about 6 cups. Place in a large bowl, and combine with the rest of the ingredients. Toss to blend.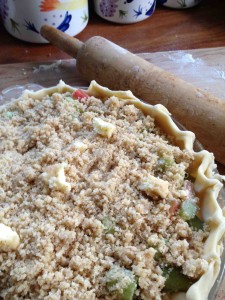 To Assemble:
Preheat oven to 375*
Fill the crust, sprinkle with topping,( If the butter chunks did not blend, as in this photo, they'll melt.). Place on a flat sheet tray to catch drippings. Bake 45 minutes or until it looks done. Cool slightly before serving with vanilla ice cream.