Print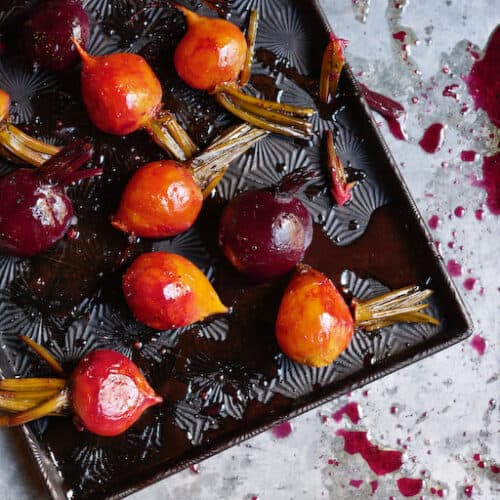 Roasted Beet Winter Salad
---
Description
Roasted beets are delicious in this salad, tossed with a tart apple and garnished with parsley, and if you are lucky to have heirloom Chioggia, they make a colorful addition. Prepare beets on stovetop or make the slightly more complicated roasted beets in this recipe for rich flavor.  The salad can be made up to 2 hours ahead, covered and refrigerated, adding the chunks of apple and orange just before serving to keep their color. Recipe adapted from my book, The New Heirloom Garden (RodaleBooks), available in bookstores everywhere on Feb. 2, 2021.
---
Scale
Ingredients
To make the Roasted Beets:
6 medium Red or Chioggia beets, scrubbed and trimmed
¼ cup + 2 tablespoons balsamic vinegar, divided
1-tablespoon pure maple syrup
2 tablespoons virgin olive oil
½ teaspoon sea salt
¼ freshly ground pepper
To Make the Salad:
2 tart apples peeled, cored, and cut into 1/2-inch cubes
1 naval orange, peeled and cut into 1/2-inch cubes
1/2 cup walnut pieces, toasted
1/2 cup crumbled Feta
1/2 cup fresh chopped Italian flat-leaf parsley
1 small red onion, thinly sliced
1/2 – cup walnut oil or extra virgin olive oil
1/4-cup balsamic vinegar
2 tablespoons finely chopped shallot
1/2 teaspoon Dijon mustard
Salt and freshly ground pepper, to taste
---
Instructions
Preheat Oven to 400*
Scrub the beets, and trim the stem end leaving 1 inch, ( reserving tops for another dish) and leave root end and peel intact. Keep them whole and place on a lightly oiled baking dish for 45 minutes. Poke with a knife to test for doneness.
Remove from the oven, cool slightly and rub off the skin. Slice the beet into quarters. Arrange back on the roasting pan, and drizzle with ¼ cup of the balsamic vinegar, the maple syrup and the olive oil. Season with a light grinding of salt and pepper. Cover the dish and place back in the oven.
Roast the beets for another 15 minutes. Remove from the oven and add the remaining 2 tablespoons of the balsamic vinegar. Carefully toss the beets to coat. Roast the beets uncovered for another 10 minutes or until fork tender.
Cool beets. Mix the beets, apples, oranges, walnuts, feta, parsley, and onion in a salad bowl.
In a small jar with a lid, combine the olive oil, vinegar, shallot and mustard. Shake vigorously to blend.
Mix as much dressing as you like into the salad, reserving any remaining dressing for another use.
Season the salad with salt and pepper, to taste.
---