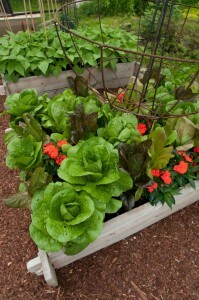 Go beyond the pretty pictures of seed catalogs to read the information provided that will help you become a better gardener. Learn what the seed requires for germination, the days to maturity and the light and space necessary for successful growing. When selecting varieties, I prefer heirloom over hybrid, which tend to offer the most flavorful harvest and also look for hard to find in order to try something new and different. The issues around seeds are as multi-layered as an onion, so find a source you can trust.
Looking for Wrinkled Crinkled Crumpled Cress, Purple Osaka and Horned Mustard, or maybe Persian Cress? Wild Garden Seeds grows certified organic seeds on a farm in the Pacific Northwest. Dedicated to open pollinated varieties and unusual, hard to find greens for the salad lover.
Mostly tried and true open pollinated seeds, High Mowing seeds is mostly focused on beans, squash and main season crops, yet has expanded to include a range of lettuce and salad greens . Think Red Salad Bowl, Lollo Rossa, Red Sails, Outredgeous, Rouge d'Hiver, Spock and Galactic lettuce all in one small seed packet.
A long time favorite among for market growers and home gardeners as a reliable source for organic seed, Johnny's offers both open pollinated and hybrid seed as well. Sold in small packets or bulk, the catalog is a one-stop resource for seeds, garden tools and season extenders. A good source of information on starting seeds, too.
Buying local seed is the next step beyond local food. Jim Weinberg owner of Organica Seed in Wilbraham Massachusetts is committed to growing seeds without chemicals on a farm that has been saving seed since 1850. Organica seed offers heirloom and organic seeds for a variety of edible crops as well as cotton, rice and Tabaco. No print catalog, on-line only.
Growing Italian vegetables is the next best thing to being there, which is why I like this catalog so much. Seeds are packed and imported, so there is nothing-local element here, and a little pricey but the variety offered is exciting and represents the best culinary types of classic Italian vegetables.