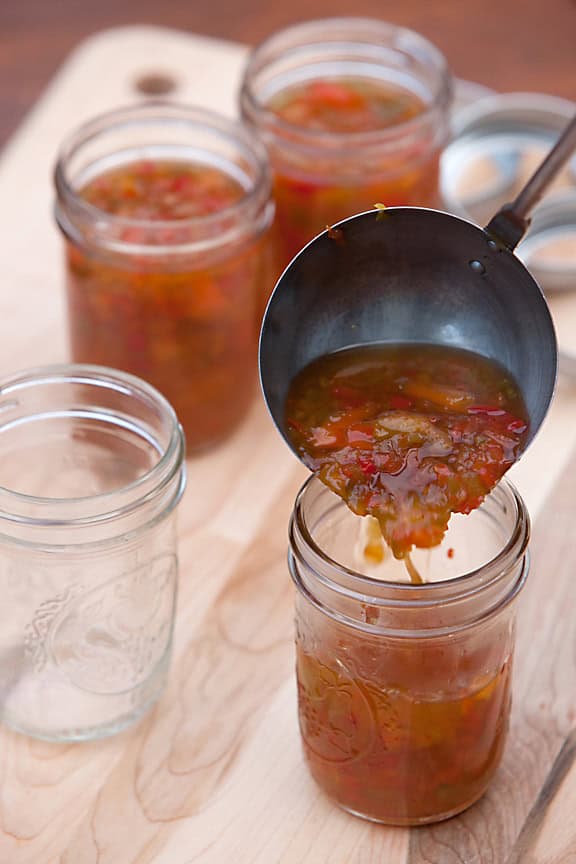 Hot and Sweet Pepper jelly
Makes 6 pint jars
Bringing the canning kettles up from the basement is a sure sign that the harvest season has begun. At first, it's a little like remembering how to drive a car in winter, but then gets easier with each batch of jam, dilly beans and ginger peach chutney. This sweet pepper jelly is not for toast! I use it as a condiment to serve with a mild cheese, or to spice up a stir fry.
12 mixed hot peppers (about 1 cup chopped)  a mixture of cayenne, habernero, serrano, and jalepenos
4 sweet bell peppers, (about 1 cup chopped) yellow, green or red
2 cups cider vinegar
6 cups sugar
1 six- ounce package of Certo pectin
1. Trim the tops off the hot and sweet peppers, remove the seed and coarsely chop into small pieces. Place in the container of a food processor fitted with a steel blade. Pulse gently, leaving small chunks. Transfer back into a measuring cup along with any juice to measure out 3 cups.
2. In a deep kettle, combine the vinegar and sugar and bring to a boil, sitrring to dissolve the sugar. Add the peppers and bring to a full rolling boil. Stir in the liquid pectin, and bring back to a rolling boil, and stir for one full minute.
3. Remove from the heat. Pour into sterilized jars, leaving about ¼ inch room at the top. Wipe the tops clean and seal the jars. Flip upside down to seal and allow to cool. Label and store in a cool, dark place until ready to use.