Print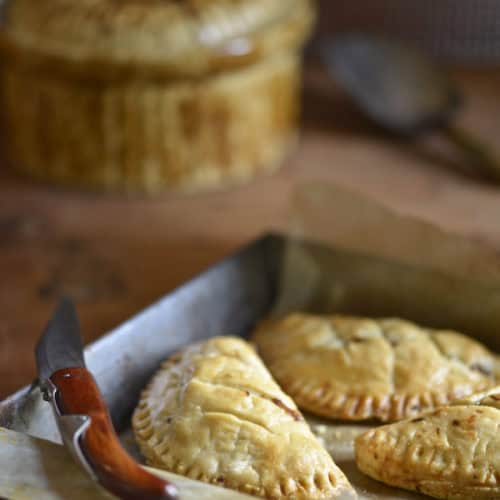 Vermont Pocket Pies
Author:

ellen@ellenogden.com
Prep Time:

45 minutes

Cook Time:

20 minutes

Total Time:

1 hour 5 minutes

Yield: Makes Eight

5

Inch - half moon shaped pies

1

x
Category:

Main Course
---
Description
Vermont Pocket Pie is a Vermont and Canadian tradition called Tourtere, makes  a special treat, especially after church service on Christmas Eve. This recipe for Tourtere is just meat, no vegetables, yet I assure you that everyone has their own version. Some are made with pork, others with a combination of pork and beef with vegetables. This recipe was created for The Vermont Country Store Cookbook, originally created for Hunter's yet also the ideal lunch for skiers or for a family picnic at a soccer game.
Although this recipe does not take much time, it is a fairly involved process, so I suggest you make up several batches and keep them in your freezer, ready for times when you are on the go. Reheat frozen pies in a 350°F. oven for 45 minutes.
---
Scale
Ingredients
The Dough:
2 cups all-purpose flour
1 teaspoon salt
1 cup (2 sticks) unsalted butter, cut into ½-inch pieces
1 egg yolk
4 to 5 tablespoons ice water
Filling:
2 tablespoons olive oil or butter
1½ pounds ground pork
2 large onions, finely chopped (2 cups)
1 clove garlic, minced (½ teaspoon)
½ teaspoon celery seeds
½ cup chicken stock
½ teaspoon salt
1 teaspoon freshly ground pepper
¼ teaspoon dried sage
¼ teaspoon allspice
1 egg yolk
1 tablespoon water
---
Instructions
In the bowl of a food processer, fitted with the steel blade, pulse flour and salt together. Drop in the butter pieces one at a time, pulsing after each addition, until fully incorporated and the mixture is like coarse cornmeal or sand. Keeping the motor running, add the egg yolk, and, one tablespoon at a time, the ice water, until the dough pulls from the side of the bowl and begins to stick together. Remove from the food processor and pat dough into a flat circle, wrap in plastic wrap, and refrigerate for 30 minutes.
In a large skillet over medium heat, add the oil and pork, cooking and stirring with a wooden spoon until meat loses its red color. Add onion and garlic; cook 2 minutes, stirring occasionally. Add celery seeds, chicken broth, salt, pepper, and sage. Cover skillet. Bring to a boil, then lower heat to simmer 35 to 40 minutes, or until all the liquid has evaporated, stirring occasionally. Remove skillet from heat and set aside to cool.
Line two sheet pans with parchment paper.
Take dough out of the refrigerator, and, on a lightly floured surface, split it in half to make it easier to work with. One half at a time, roll to about 1/8-inch thick. Use an inverted bowl to measure a 5-inch circle (if your bowl's a little bigger or smaller, it doesn't matter), tracing the circle with a paring knife in the dough. Repeat with the remaining dough until all the dough has been used up. This may require that you combine dough pieces and reroll, keep the surface floured. Try not to over-handle the dough or it may become tough.
Place ¼ cup of filling onto half of a dough circle, wet edges of dough with water, fold over and seal with the tines of a fork. Slash 3 small vents in the top of pocket and place on the parchment paper on the sheet pan. Repeat this for all the dough circles and until the filling is done. Once each pan is filled, refrigerate for 30 minutes (or freeze uncooked; when frozen, place in plastic bags until ready to bake).
Preheat oven to 375°F. Remove the sheet pans from the refrigerator. Brush the tops with milk or a beaten egg yolk, sprinkle coarse salt over the tops. Bake for 20 minutes, rotating the sheet pans halfway through cooking time, until golden. Remove from the oven, and let cool slightly.
---
Notes
This recipe can be easily adapted with vegetables and be a delicious vegetarian alternative to this pork option, which was originally created for The Vermont Country Store Cookbook available at The Vermont Country Store.