Print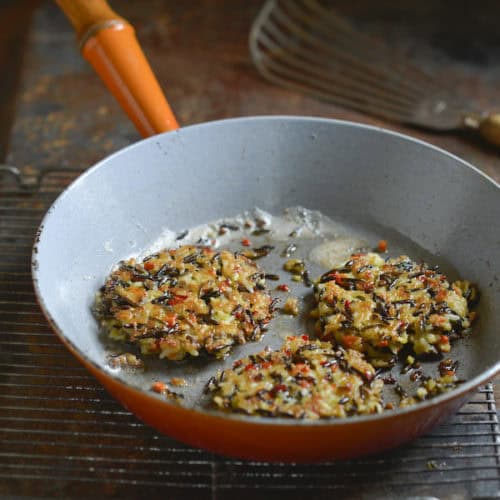 ---
Description
I like to serve these pancakes as a stand-alone with a dab of ginger peach chutney, or as a side dish for smoked pheasant, chicken, or fish. The carrot, celery, and sweet pepper add a nice hint of color; and I've also made these with shredded kale and spinach, which add more green tones. It's a terrific way to combine vegetables and grains, and turn a wild food into a mainstream favorite.
Oddly, wild rice is not really rice, but an aquatic grass, and the only native grain in North America. A complex carbohydrate high in fiber, it has a lengthy cooking time but tells you when it's ready by popping open. Mix the wild rice with basmati rice, because it both gives the pancake better texture and stretches the wild rice, which can be pricey. Cook them separately, since they require different cooking times, but if you time it just right, the rices can be ready at the same time, your vegetables will be sautéed, and the dish will come together nicely.
---
Scale
Ingredients
½ cup wild rice
½ cup basmati rice
½ teaspoon salt
4 tablespoons olive oil, divided
2 cloves garlic, pressed or finely chopped (1 teaspoon)
1 carrot, very finely chopped (1/2 cup)
1 stalk celery, very finely chopped (1/2 cup)
½ yellow or red sweet pepper, very finely chopped (1/2 cup)
2 eggs
1 cup fine breadcrumbs or Panko
Salt and freshly ground pepper
---
Instructions
Rinse the wild rice in cold running water to clean. In a 2-quart saucepan, bring 2 cups of water to a boil. Add salt and stir in the wild rice. Cover, turn down the heat and cook the rice until tender and the kernels pop open, about 55 minutes.
Rinse the basmati rice in cold running water to clean and remove starch. In a separate 2-quart saucepan, bring 1¼ cup water to a boil. Add the basmati rice, turn the down the heat, and simmer until tender and the water is fully absorbed, about 15 minutes.
Drain both the wild rice and the basmati rice in a colander in the sink to remove any excess water. Do not rinse under cold running water—all the flavor goes down the drain!—but let cool naturally.
While the rice is cooking, in a medium skillet, heat 2 tablespoons oil over medium heat and sauté the garlic for 30 seconds until fragrant, then add the carrot, celery, and sweet pepper. Sauté until soft, about 5 minutes, stirring occasionally with a wooden spoon. Turn off the heat and set aside to cool.
In a small mixing bowl break 2 eggs and whisk to beat lightly. Transfer the wild rice and basmati rice into a large mixing bowl; add the beaten eggs, breadcrumbs, and sautéed vegetables, setting skillet aside. Stir to blend, taste and season with salt and pepper to taste, and let the mixture sit on the counter to cool for 20 minutes. (If you are cooking later, you can cover with plastic wrap, and refrigerate.) This rest is important to allow the breadcrumbs to absorb the liquid.
Preheat oven to 250°F.
Wipe the now-empty skillet with a paper towel. Add the remaining 2 tablespoons olive oil to the skillet and heat over medium heat. Firmly fill a 2-ounce ice cream scoop or a ¼-cup measuring cup with rice mixture, and release carefully into to the skillet. Repeat with as many pancakes as will fit in pan without crowding; you may have to do this in batches. With the back of a non-stick spatula dipped in water (to keep from sticking), press to slightly flatten into a pancake shape. Cook 3 minutes per side, and transfer to a baking sheet. Keep warm in the oven while you cook all pancakes and until dinner is ready. Leftovers are easy to reheat in a 350°F. oven for 15 minutes.
---