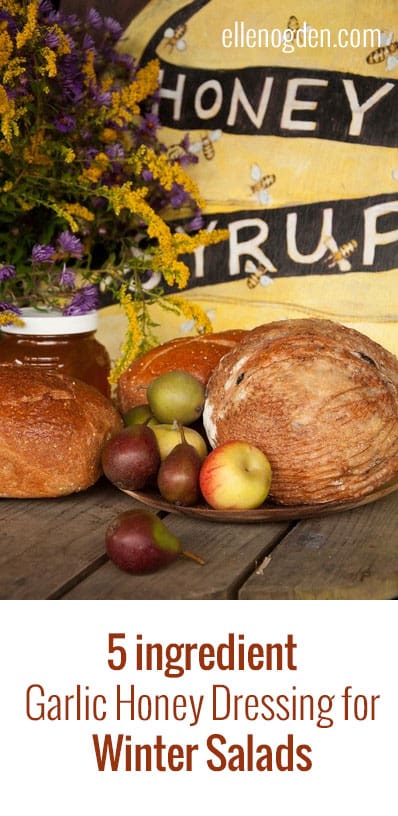 Years ago, I bought a jar of garlic honey from Emmet Dunbar at Anjali Farms at the Londonderry Farmers Market. The combination of garlic and honey seemed a little odd, but it was not to put on toast, Emmet explained, "It builds up your immune system to ward off a cold". Sure enough, that winter at the first sign of a sore throat I took a spoonful of the garlic honey and poof!  it was gone.  Figuring a little bit every day couldn't hurt, I began using a small dab in my salad dressing until that one jar was gone. By then, Emmet was sold out so I had to wait a whole year for more.
This fall, after harvesting my own garlic and honey, I called Emmet for the recipe. He admitted that there was not a precise recipe, but gave me a general idea of what to do: Peel and smash about 6-8 cloves of garlic, and whir in a blender along with 1 cup unfiltered honey. Transfer to a jar with a lid and keep refrigerated.
Cooking for flavor or for optimum health? This garlic honey conquers both! According to the new book by  Eating on the Wild Side by Jo Robinson, to reap the benefits of garlic, follow the ten minute rule: chop, mince, slice or mash the garlic and then keep it away from the heat for ten minutes. After that, you can sauté or add the garlic to any dish and be guaranteed to get the full benefit of its medicinal qualities. To check out the book  follow this link to an NPR interview.
I put up four jars to last this winter, but admit I've already opened a second jar. Between a late crop of arugula and the last of the carrots, the garlic honey dressing added a sweet balance to the bitterness of the greens. Steaming carrots accentuates the vitamin content, plus makes them tender and absorbent to the dressing. The recipe below makes a satisfying winter salad that you can serve along with a yummy caramelized onion savory tart.
Garlic Honey Dressing

1/4 cup EV olive oil
3 tablespoons cider vinegar
1 teaspoon garlic honey* see above
1 teaspoon Dijon style mustard
Sea salt and freshly ground pepper to taste
In a wooden salad bowl, combine the dressing ingredients and stir vigorously to blend. Set aside and prepare salad fixings.
Carrot and Arugula Salad
Serves 2-4
6-8 freshly harvest carrots, washed, and not peeled. (Leave a bit of the green tops for color, flavor and extra vitamins)
4-6 cups fresh arugula or fall meslcun
Bring a few inches of water to a boil, add a tablespoon of salt and insert a steamer with the carrots. Cover and cook until the carrots are just tender, about 5 minutes. Drain. Wash and thoroughly dry the arugula and wrap in a towel until ready to use. Just  before serving, toss  the arugula and the carrots to coat. You can add other salad ingredients to dress it up a notch, such as dried cranberries or thin slices of red red and croutons.